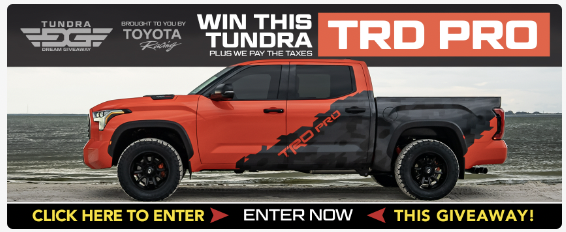 Welcome to the JeepSpecs.com in-depth page on the WK Generation Jeep Grand Cherokee front and rear suspension. Did we miss anything? Please get in touch with us and tell us about it!
View of the the WK's independent front suspension components
All-New Suspension Designed for Superior On-road Performance and Durable Off-road Capability
Innovative Dynamic Handling System Improves Road-Gripping Abilities and significantly reduces body roll
New Five-Link Rear Suspension for Maximum Control Both On- and Off-road
Engineers were challenged with the task of designing a Jeep® suspension that performs better off-road, matches or surpasses existing durability and vastly improves vehicle handling and ride comfort on-road. The solution: Combine the five-link rear suspension architecture with an all-new Jeep Grand Cherokee independent front suspension (IFS).
The all-new front suspension was designed for improved off-road performance and robustness. A vast improvement in handling and ride comfort was achieved simultaneously. The five-link rear suspension is tuned for superb handling and balance in a package that is just as fun and enjoyable to drive every day on the pavement as it is off-pavement.
All-New Front Suspension and Steering Systems
An all-new short- and long-arm (SLA) front suspension provides excellent handling and ride characteristics while improving Jeep Grand Cherokee's off-road performance.
Nodular iron, single-piece lower control arms feature an L-shaped geometry designed to provide higher ground clearance at the wheels than most IFS systems. Forged upper control arms provide strength and durability. Tall aluminum steering knuckles provide optimal steering and suspension geometry for excellent on-road handling and maneuverability. Gas-charged, twin-tube coil-over shocks deliver high-performance control.
Front suspension travel is increased by almost 10 percent (more than one inch) compared to the 2004 Grand Cherokee, further improving the 2005 Grand Cherokee's off-road capability.
The advantages in using this uniquely designed front suspension include much improved handling, reduced head toss on and off road for a more comfortable ride, a savings of 100 pounds of unsprung mass for further improvement in ride quality, more precise steering and a lower center of gravity.
The 2005 Grand Cherokee rear suspension builds on the success of previous generation Jeep multi-link systems. Four tubular control arms combine with a tubular track bar for total rear-axle control. The shock absorbers (gas-charged, twin-tube) are positioned more vertically than in past models for greater body control and reduced head toss.
The spring rates and shock dampening have been tuned to complement the front suspension for a highly balanced chassis.
Grand Cherokee's new rack and pinion steering system imparts a more precise steering feel translated to the driver through fewer linkages than a recirculating ball steering system.
Dynamic Handling System ("DHS")
Note: This feature was originally scheduled to be available during the latter part of the 2005 model year but was delayed and did not appear on any 2005 models. DHS was then planned for the 2006 model year but it now appears, as of information received August 2005, that it has been put on hold once again and will NOT appear on any 2006 models.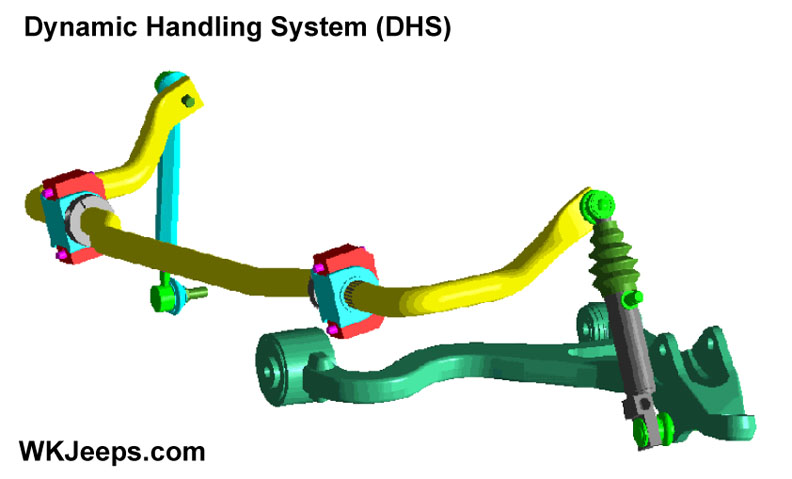 The innovative Dynamic Handling System (DHS), developed by Delphi, uses a hydraulic-controlled active stabilizer bar to minimize the traditional compromise between ride and handling. Traditionally, a stiff stabilizer bar improves handling, but diminishes ride quality. The Jeep DHS overcomes this by effectively decoupling the front and rear stabilizer bars except when they are needed to improve cornering performance. The main advantage of the Dynamic Handling System is its ability to reduce roll bar forces under normal driving conditions and road impacts, while applying only the required roll bar forces to maintain up to zero body roll angle in corners.
The DHS responds in real-time to actual or anticipated driving conditions. The active system consists of hydraulic actuator cylinders that interact with the anti-roll bars, a power source, a control manifold with integral valves and a pressure sensor, a controller and on-board vehicle sensors which monitor steering angle lateral acceleration and vehicle speed. The center of gravity lateral accelerometers and upper lateral accelerometers are used to determine when the stabilizer bar is necessary. Actuators pressurize the bar links when the bar is required. While traveling straight on-road, the actuators float and the bar can travel to the limits of the links.
DHS delivers a high level of driver confidence by significantly reducing body roll in tight turns, resulting in sportier handling and maneuvering, while providing a smoother ride when traveling straight ahead. Improved wheel articulation is another advantage. Helping provide constant tire contact with the road surface, DHS significantly increases off-road capability and driver comfort.