Welcome to the JeepSpecs.com in-depth page on the WK Generation Jeep Grand Cherokee Mopar / Corsa SRT8 Cat-back exhaust system. Did we miss anything? Please get in touch with us and tell us about it!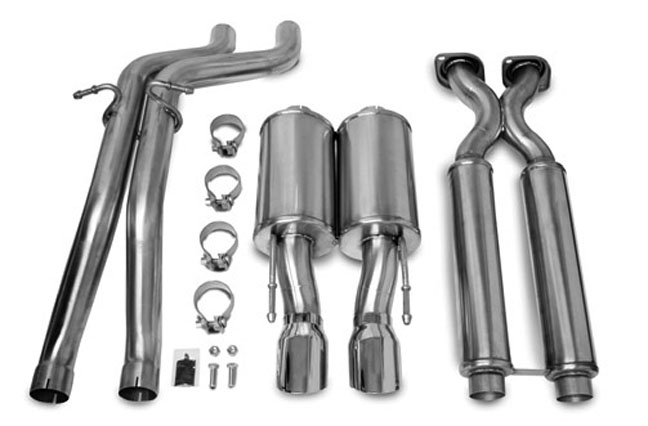 Corsa cat-back system for the Grand Cherokee SRT8
In August of 2006 Mopar released a performance cat-back exhaust system for the Grand Cherokee SRT8. The exhaust upgrade was designed and built by Corsa Performance Exhausts under the direction of the SRT8 team and was specifically tuned for this vehicle.
Sold by both Mopar (p/n P5153453) and Corsa (p/n 14451) it has a retail price of $1385.00. Installation is fairly easy as it is a bolt-on system with no welding required. If ever desired the stock components can be easily reinstalled in the future. Muffler or performance shops typically charge around $75 to $100 for the installation.
The main advantage over the Corsa system vs other cat-back systems for the Grand Cherokee is the fact that the system produces no drone, very important criteria for most owners.

Features:
Straight-through, 2.75″ nonrestrictive design specifically tuned for the vehicle.
Flow bench-tested 17% gain in exhaust flow vs. stock muffler.
All 304L stainless steel construction, crafted with pride and precision in the USA.
Patented CORSA Reflective Sound Cancellation™ Technology.
Dual rear center exit with handcrafted Twin Pro-Series 4.0″ tips for enhanced vehicle appearance.
No welding required; Bolt-on installation.
Includes hardware and illustrated installation guide.
50-state emissions legal.
Complies with 95 dB requirement when tested in accordance with SAE test procedure, J1169 (May 1998).
Limited LIFETIME WARRANTY for as long as you own your vehicle.
CORSA exhaust systems are not warranted to meet any specific local, state or federal noise ordinances. Please check applicable laws before installing.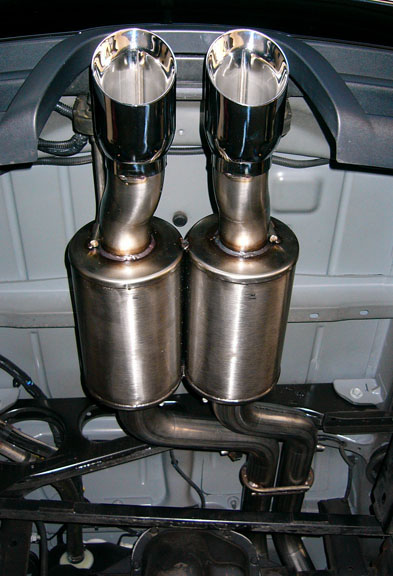 Photos of the Mopar cat-back system installation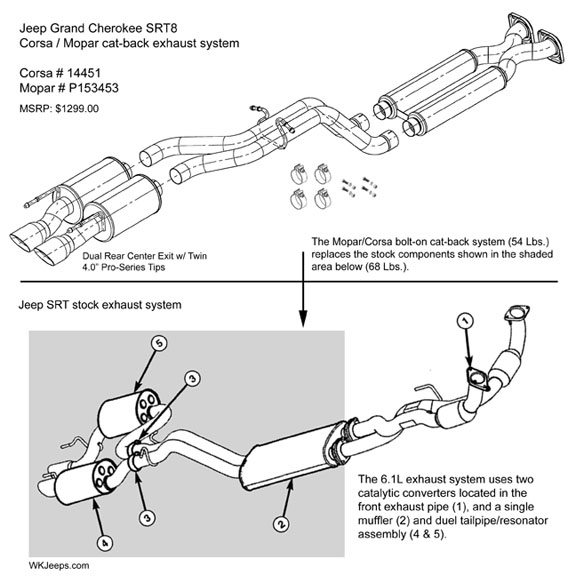 System components comparing the cat-back to the stock system