Welcome to the JeepSpecs.com In-Depth page on the WK2 Jeep Grand Cherokee Harman Kardon premium audio system. Did we miss anything? get in touch with us and let us know!
Grand Cherokee Harman Kardon
system availability:
2012-2020 SRT  (Optional)
2014-2020 Summit  (Standard)
2015-2020 Overland (starting March 2015) (Optional)
2018-2020 Trackhawk (Optional)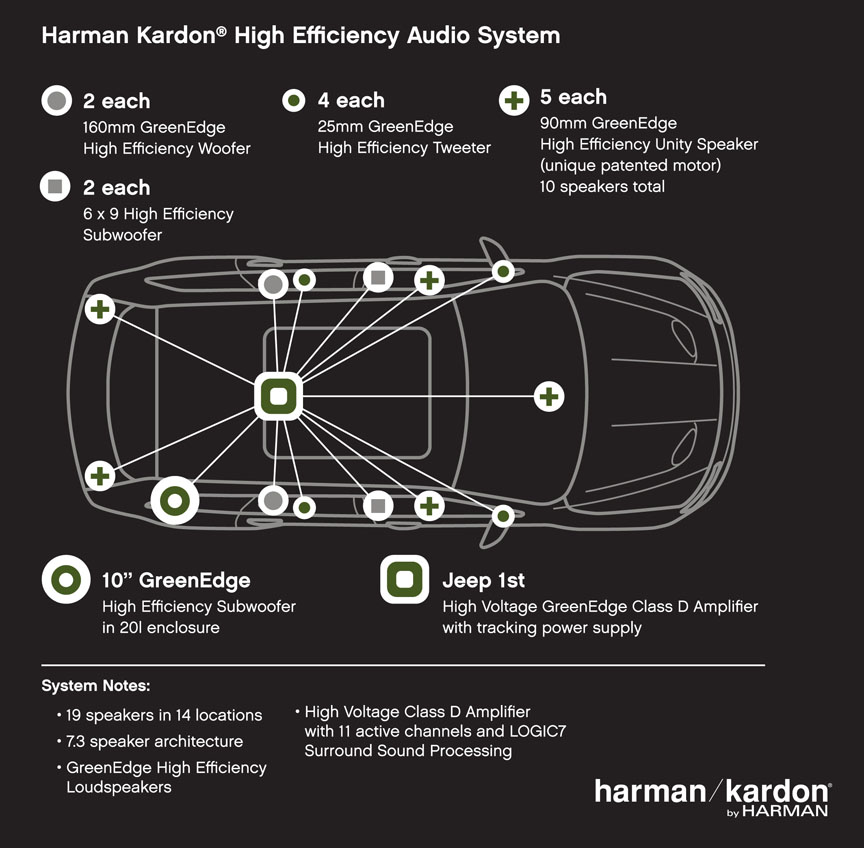 Harman Kardon contributes to the unique driving experience delivered on-board the new 2014 Jeep Grand Cherokee. Harman engineers have ensured an exclusive approach in the development of the sophisticated audio system that surrounds the occupants of Grand Cherokee in high-definition sound.
New 7.3, 825-watt Harman Kardon Surround Sound audio system with Logic 7 technology is an exclusive feature of both the top-of-the-range Summit model (Standard on 2014+ model years) and the high-performance SRT model (Optional on 2012+ model years). In European markets, the system is Standard on both the Summit and SRT. The system delivers maximum audio performance, innovative technology and engineering excellence. Logic 7 Surround Sound processing delivers authentic, multidimensional listening pleasure throughout the new Jeep Grand Cherokee.
With best-in-class playback precision and innovative GreenEdge® technology the new system provides the ultimate music listening experience. The surround sound system includes 19 high-performance speakers in 14 locations and is designed to deliver twice the acoustical power output and sound reproduction. The system offers a 32-volt Tracking Power Supply (TPS) 12-channel Class D amplifier delivering improved acoustic transparency and dynamic response.
Amplification
The 11 Channel High Voltage GreenEdge Class D amplifier is managed by a tracking power supply, which responds instantly to precise demand for current over its 11 independent channels. The 7.3 speaker playback architecture ensures state of the art multi-seat surround sound processing.
Logic 7™ processing: a milestone in audio technology
Logic7 multichannel surround-sound technology has set a new standard for acoustic precision and authenticity, contributing to a completely new surround-sound experience in automobiles.
Originally developed over the course of many years for professional recording studios, Logic 7 processing has been the first choice of discerning music lovers for their homes before it became available for cars. This unique technology has become indispensable, particularly in the automotive industry, because it delivers authentic, three-dimensional listening pleasure to all seats occupants thanks to its 19 High Performance GreenEdge loudspeakers.
GreenEdge®: The Sound of Efficiency
Harman Kardon GreenEdge audio systems offer superior sound quality and high SPL output levels with minimum energy consumption. The systems utilize unique amplifier and speaker technologies delivering substantial increases in component and system efficiency levels. GreenEdge amplifiers outperform traditional amplifier efficiency by up to 55 percent – representing a net efficiency of more than 90 percent in many cases. The acoustic transparency and dynamic response have been significantly improved at the same time in comparison with conventional systems.
GreenEdge® High Efficiency loudspeakers
The compact high efficiency transducers make an important contribution to energy savings, requiring less input power. The high-efficiency speaker designs ensure higher sound pressure levels (SPL) with a dramatic increase in dynamic sound quality. The speakers are tuned for maximum efficiency and perfectly matched to the amplifier output stage. This match enables the speakers to deliver outstanding acoustic transparency and dynamism. Using innovative, lightweight materials, such as Aramid fiber and an array of highly efficient design solutions also ensures optimized low mass products.
Components and locations
One 8.89 centimeter (3.5 inch) diameter speaker is installed in the center of the instrument panel under the defroster grille (1)
One 2.54 centimeter (1 inch) silk dome tweeter speaker is located in the mirror flag area of each front doors (2)
One 15.2 X 22.9 centimeter (6 X 9 inch) speaker is located in each front door (3)
One 8.89 centimeter (3.5 inch) diameter speaker is located in each front door (4)
One 2.54 centimeter (1 inch) silk dome tweeter speaker is located in each rear door (5)
One 16.5 centimeter (6.5 inch) diameter speaker is located in each rear door (6)
One 25.4 centimeter (10 inch) subwoofer located in the right side quarter panel (7)
One 8.89 centimeter (3.5 inch) diameter speaker is installed in each of the D-Pillars (8)
825-watt amplifier located in the left side quarter panel (9)