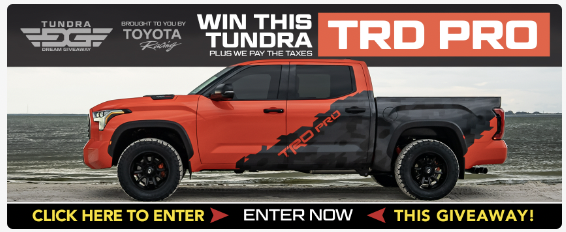 The early 1990s was an interesting period of time in Jeep history. It was during this era that Jeep's then-parent company, Chrysler, began reinventing the brand's image. This most notably involved shuttering production of prior Jeep models, in preparation for the release of newer product offerings to come. For better or for worse, this was the end of the line for many beloved Jeeps of the foregone era.
One such casualty was that of the Jeep Grand Wagoneer, which was officially discontinued in 1991. By this time, the Jeep Cherokee (XJ) had risen to prominence, thereby antiquating the Grand Wagoneer, at least to some degree. However, the Cherokee itself hardly filled the void left by the more luxurious Wagoneer's discontinuation. Luckily, this void was soon to be filled in earnest, with the release of the more refined Jeep Grand Cherokee.
A Purpose Fulfilled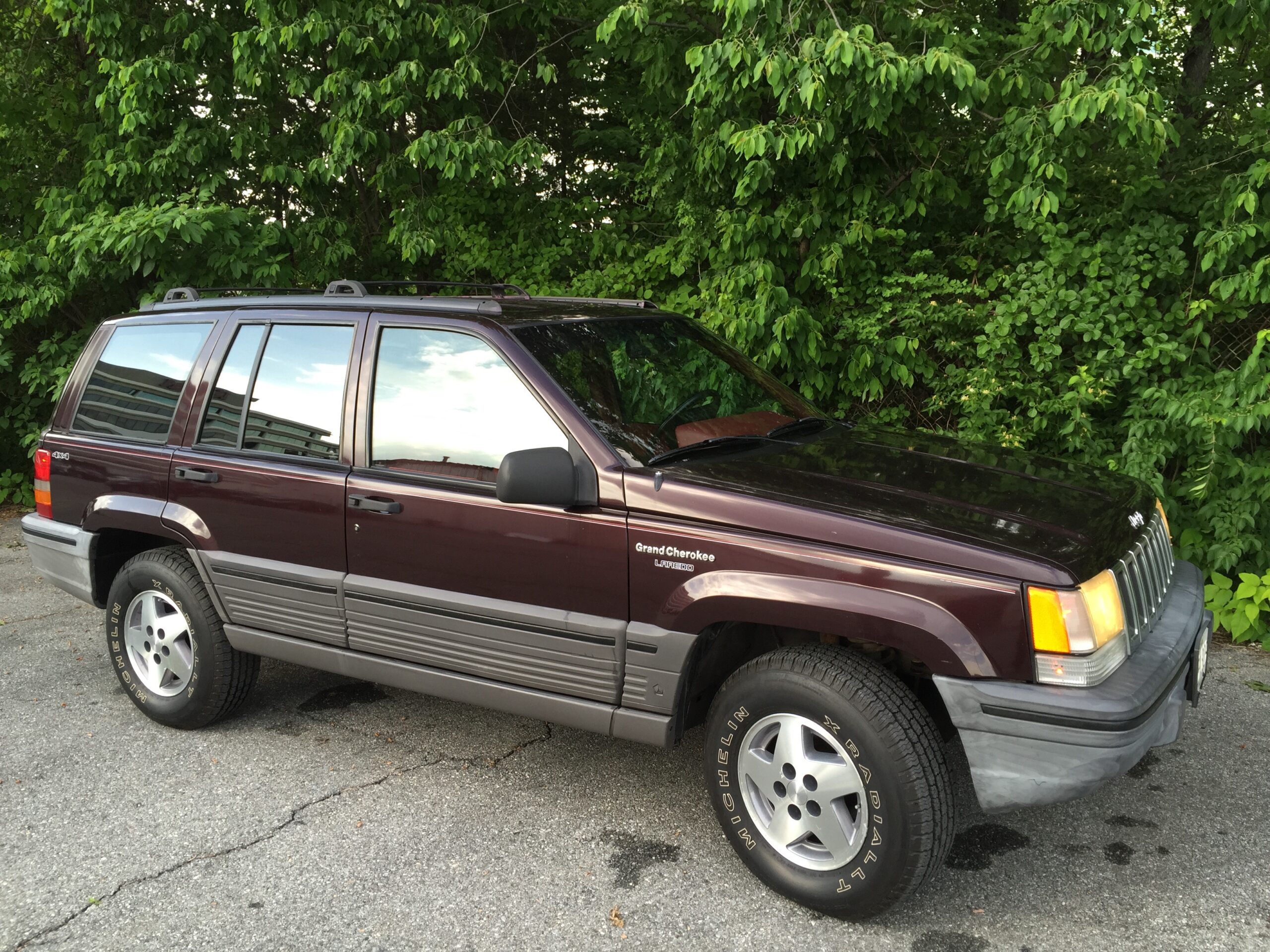 Though the Jeep Grand Cherokee would eventually serve as a more luxurious big brother to Jeep's standard Cherokee model, the new sport utility vehicle was initially envisioned as the Cherokee's replacement. By the early 1990s, the Cherokee was already better than a decade into production and was slated for replacement upon the Grand Cherokee's release.
However, the top brass at Chrysler soon realized that the Cherokee and Grand Cherokee complimented one another, while also appealing individually to distinct markets. While the Cherokee was often judged to be utilitarian in nature, the Grand Cherokee served as a more luxurious competitor to Ford's enormously popular explorer. Additionally, the 1993 Grand Cherokee found favor among consumers who clamored for a wagon, which more closely related to the Jeep Wagoneer that they had grown up with.
The Birth Of A Legend
The Jeep Grand Cherokee first became available in April of 1992, though all such Jeeps carried the "1993" model-year designation. Under the first generation ZJ designation, the Grand Cherokee was initially offered with only one available powerplant, the 4.0-liter straight-six. This engine produced 190 horsepower and was known for its innate durability. Later in the 1992 / 1993 production year, Jeep also began offering the Grand Cherokee with an optional 220 horsepower 5.2-liter V8.
Consumers could choose between having their 1993 Grand Cherokee equipped with an AW4 4-speed automatic, or an Aisin AX15 manual transmission. The latter of these two transmissions gained little traction in terms of popularity and was ultimately discontinued in 1995.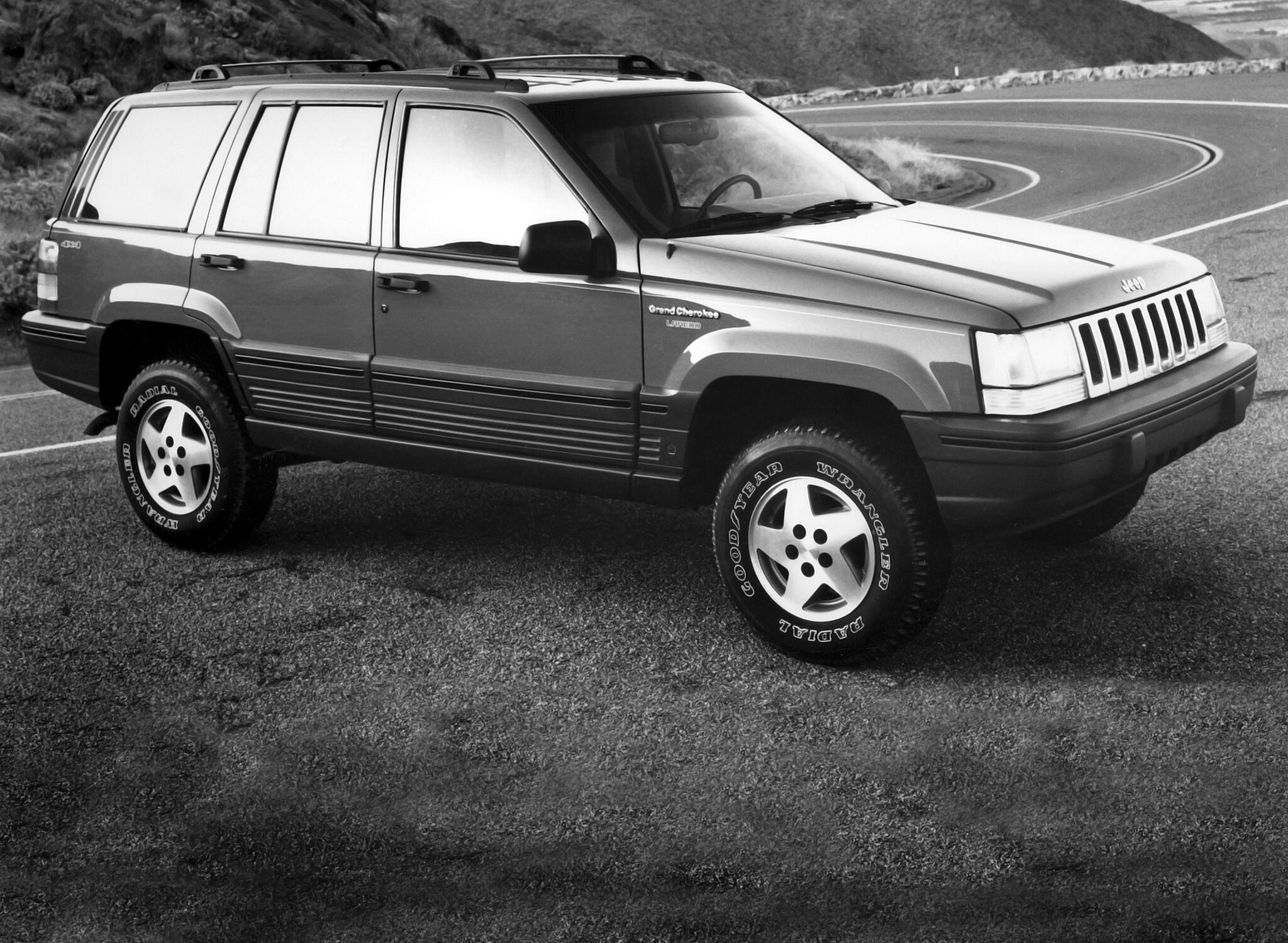 For the 1993 model year, the Grand Cherokee was offered in three available trim packages, which included base, Laredo, and Limited. In its base form, the 1993 Cherokee featured standard cloth seats, manual windows, and manual locks. This package, later known as the "SE" trim, would eventually be eliminated, due to an overall lack of consumer interest.
In its Laredo format, the 1993 Jeep Grand Cherokee featured power windows, power locks, cruise control, and a leather-bound steering wheel. Five-spoke alloy wheels and grey lower-body paneling rounded out the Laredo's external facade.
The "Limited" trim package saw the Grand Cherokee outfitted with a number of premium accessories and features. Some of the most notable of these additions included power-front seats, heated mirrors, wood-grain interior trim, keyless entry, and a digital climate control interface. The Grand Cherokee Limited also featured leather upholstery and a Jensen stereo, as well as color-matching lower door panels and gold exterior accents.
A New Standard Of Luxury
From its inception, the Jeep Grand Cherokee showed immense promise, appealing to many consumers who had not been directly catered to during prior periods of Jeep production. Those who wished to cruise in style, yet remain trail-ready at a moment's notice, were suddenly allowed to have their cake and eat it too. The 1993 Jeep Grand Cherokee offered true value to an ever-growing consumer base that was hungry for something a little out of the norm.
Perhaps more important was the role that the Grand Cherokee played in leveraging Jeep's place within the mid-size SUV market. This is a market that would be largely dominated by the Cherokee and Grand Cherokee during the final years of the millennium. Even today, Grand Cherokees from this era can still be readily observed traversing almost any major roadway in America, every bit as capable as they were upon their release nearly three decades prior.
1993 Jeep Grand Cherokee Specifications
Engine
4.0L Inline 6 cylinder

5.2 liter V8

Horsepower
190/220 horsepower
Torque
225 lb-ft torque
0-60 MPH
10.0 sec
Quarter Mile Time
17.4 sec
Weight
3,569-3,958 lbs
Base Price
$18,990 Base

$20,174 Laredo

$28,670 Limited

Production Numbers
250,143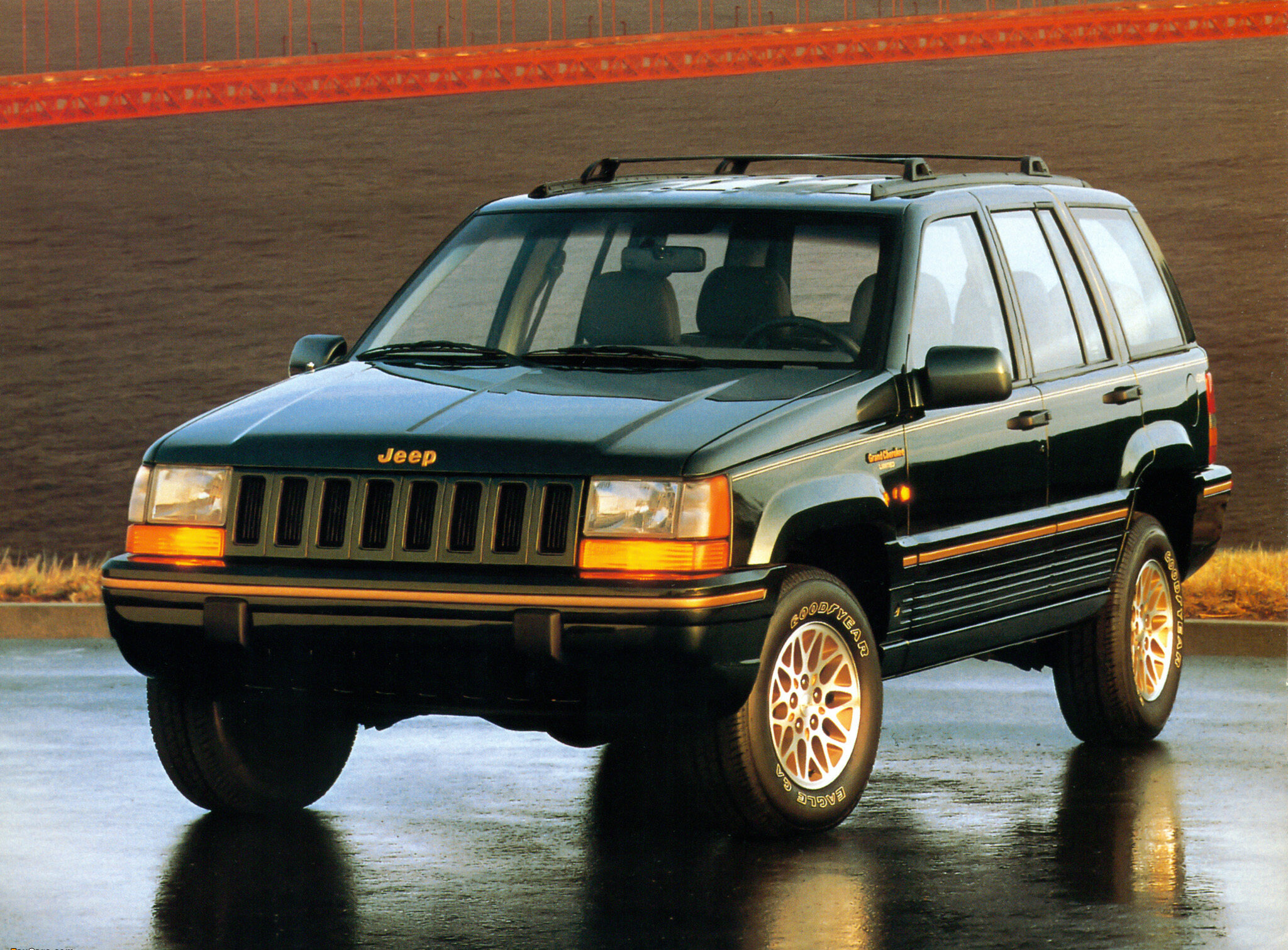 Available Exterior Colors
The 1993 Jeep Grand Cherokee was available in Black, Blue Satin Glow Metallic, Driftwood Satin metallic, Bright White, Flame Red, Poppy Red, Dark Quartz Gray Metallic, Light Champagne Metallic, Hunter Green Metallic, Silver Quartz Metallic, Bright Quartz Metallic, Black Cherry Metallic, and Jewel Blue Metallic.
Available Interior Colors
The 1993 Jeep Grand Cherokee interior was available in Light Gray, Dark Gray, Light Driftwood, Black, Red, Driftwood, Beige, and Beige/MossGreen.
1993 Jeep Grand Cherokee Video
We found a great video about the '93 Jeep Grand Cherokee.