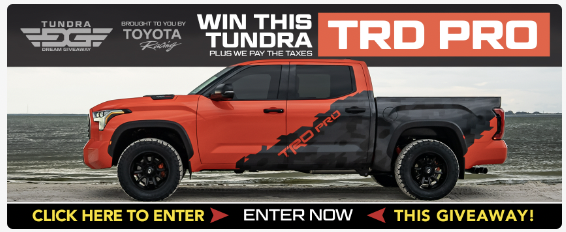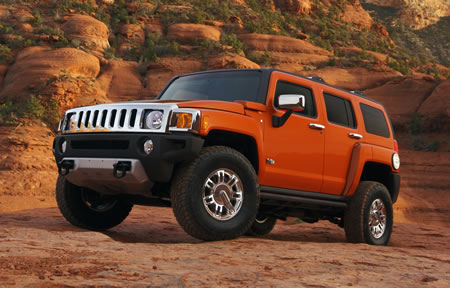 Notes and commentary by Kenny Herman.
2008 HUMMER H3 Alpha
Newest model in the performance-bred Alpha series
Powerful 5.3L V-8 powertrain offers 295 hp (224 kW)*
Maximum towing increased to 6,000 pounds (2,721 kg) – a 33-percent increase
Unique exterior and interior features, including Alpha badging
Offering the towing capability that only a V-8 can, the 2008 H3 Alpha broadens HUMMER's range of versatile, do-anything and go-anywhere vehicles. HUMMER announced the H3 Alpha at the New York Auto Show; it goes on sale this summer.
The H3 Alpha is the second member of HUMMER's exclusive Alpha series, representing the pinnacle of performance, both off the road and on it. It comes with a new, 5.3L V-8 engine that delivers 295 horsepower (224 kW)* and 317 lb.-ft. of torque (438 Nm)*. It is partnered with a four-speed automatic transmission and enables a maximum towing capacity of 6,000 pounds (2,721 kg) – an increase of more than 33 percent over other H3 models
"H3 Alpha is, simply, the ultimate HUMMER H3," said Martin Walsh, HUMMER general manager. "It delivers all of H3's renowned off-road capability, but with enhanced performance that is suited to a variety of lifestyles."
In addition to the V-8 engine, the H3 Alpha also includes the popular "Luxury" equipment package, the Chrome Appearance package, 16-inch chrome wheels, a 4.10 rear axle ratio and special Alpha identification, including a prominent tailgate badge, horn pad badge and embroidered front headrests with the "Alpha" insignia.
For customers who want a more accessorized appearance straight from the factory, the Alpha model can be combined with the H3X content, which includes bright roof crossbows, chrome fuel door, a body-color grille and unique spare tire cover, tires, wheels and center cap, and a brush guard. Additionally, HUMMER Accessories offers an exclusive line of GM-designed, manufactured and validated accessories that are engineered and tested for no-compromises fit, finish and performance.
"Because HUMMER stands for more than just off-road performance, the H3 Alpha builds on the style and refinement of the H3 lineup and offers a unique, instantly recognizable statement on the road," said Walsh. "In short, the H3 Alpha matches HUMMER's off-road expectations with on-road attitude."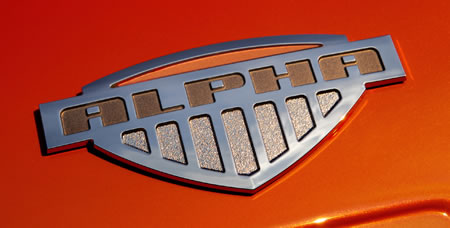 Alpha – the ultimate HUMMER
HUMMER Alpha models represent the top in performance, capability and comfort. The H1 Alpha was the first of these ultimate HUMMERs, and like the H3 Alpha, it offered a more powerful engine as well as unique styling and comfort features.
The H3 is the newest model to carry the Alpha flag, and represents HUMMER's first Alpha model engineered in conjunction with GM Performance Division.
Award-winning interior and safety enhancements
The H3 Alpha shares the same widely admired interior as all H3 models, including detail revisions and enhancements that have been implemented across the lineup. New child safety locks for the rear doors and easier-to-use power window switches were introduced during the '07 model year and reflect customers' input.
"Details matter, and our customers told us these details were particularly important, so we updated the H3 lineup to address them," said Walsh.
Also new for the H3 Alpha and the entire 2008 H3 lineup are standard head curtain side air bags; they were previously optional. Additional standard safety features now found on all H3 models include:
StabiliTrak electronic stability control system
Four-wheel antilock brakes with traction control
Dual front air bags with Passenger Sensing System
Tire pressure monitoring system
Vehicle-to-vehicle crash compatibility
LATCH rear child seat anchors
HUMMER's Rear Vision system and a navigation system are available. The Rear Vision system uses a camera mounted near the rear bumper to provide a view of objects directly behind the vehicle. Also, the safety and security of OnStar is standard, and its new Turn-By-Turn Navigation feature is available.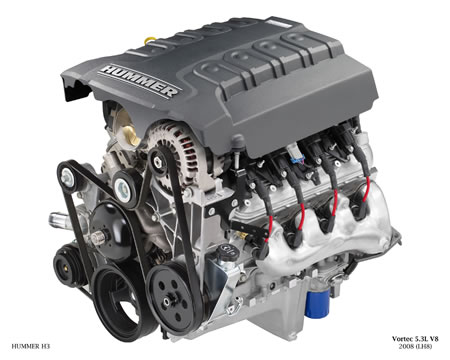 Powertrain details
The H3 Alpha's 5.3L engine is a powerful and efficient member of GM's legendary small-block V-8 family. It is rated at 295 horsepower (224 kW)* and 317 lb.-ft. of torque (438 Nm)*; and is similar to the small-block V-8 found in the Chevy Silverado, which was named the 2007 Truck of the Year at the North American International Auto Show.
"For jobs such as towing personal watercraft up a mountain to the lake, the small-block V-8's torque performs with effortless ease and little impact on fuel mileage," said Christopher Meagher, assistant chief engineer of small-block V-8 truck engines. "The 5.3L engine greatly broadens the H3's towing capability."
Effortless highway driving also is an attribute of the 5.3L V-8, which enables 0-60 mph performance of approximately eight seconds.
"All of the powertrain options in the H3 lineup deliver performance suited to different driving styles and needs," said Meagher. "But when it comes to certain tasks such as towing, there is sometimes no substitute for a V-8 engine."
An aluminum cylinder block is used with the H3 Alpha's engine. It helps reduce overall mass and maintains a more desirable front-to-rear weight balance. Like all of GM's small-block V-8 engines, highlights include:
Deep-skirt cylinder block with cross-bolted main caps
High-flow cylinder heads
Electronic throttle control
58X ignition system
E67 32-bit controller
Polymer-coated pistons with full-floating wrist pins
Returnless fuel system
Lightweight valvetrain
Steel camshaft
Low-restriction air intake system
GM's small-block V-8 engines are engineered to meet today's more stringent emissions standards. In fact, the H3 Alpha's V-8 engine beats the deadline for new, U.S. federal emissions standards by a year. And compared to truck engines of a decade ago, the small-block engine family is approximately 90 percent cleaner. Cast iron exhaust manifolds matched with four close-coupled catalytic converters help reduce cold-start emissions, which is the largest source of vehicle emissions.
A Hydra-Matic 4L60 electronically controlled four-speed automatic transmission is paired with the H3 Alpha's V-8 engine. And, as with all H3 models, flat-towing is enabled.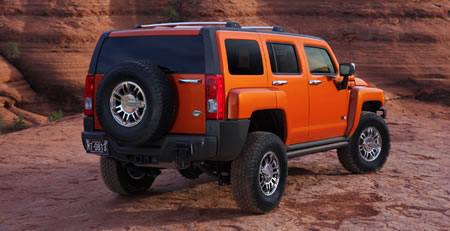 New V-8 drives vehicle-wide enhancements
HUMMER H3 and GM Performance Division engineers did more than simply shoehorn a V-8 engine into the H3's engine compartment. Accommodating the new power plant necessitated the execution of a seemingly endless number of technical details – many of which have been implemented across the entire H3 lineup.
The H3's frame was modified to accept the V-8 engine, and a special oil pan was designed to ensure constant oil pressure when driving on steep grades – a hallmark of HUMMER's off-road capability. Also, the engine compartment front of dash was modified to accommodate the V-8, and a new steering system is used on all H3 models to deliver better on-center feel and even more improved off-road reliability.
To support the torque output of the powerful V-8, the H3 Alpha's front differential case is made of cast iron; other models feature an aluminum case. New engine mounts, higher torsion bar rates to support the increased mass, and specific shock valving also are unique to the V-8-powered model, ensuring it continues to deliver the unparalleled ride quality – both on- and off-road – that customers expect.
All of the chassis and suspension changes were validated in real-world testing on off-road trails in Moab, Utah, the Rubicon Trail and other challenging off-road venues.
"Our engineers live, breathe and eat off-road driving," said Walsh. "To say they sweat the details is an understatement."
A HUMMER by any measure
All H3 models pack HUMMER's trademark capability into a midsize package. Compared to the H2, the H3 is 16.9 inches (429 mm) shorter in length, six inches (152 mm) shorter in height and 6.5 inches (165 mm) narrower. Roughly the same length as a midsize family sedan, H3 comfortably navigates city traffic and fits nicely in parking garages.
The H3 lineup also delivers exceptional rock crawling and climbing performance; it was engineered for off-road leadership among midsize SUVs. The heart of this capability is its electronically controlled four-wheel-drive system and suspension tuning tailored for off-road performance. In addition, the H3 features standard underbody shielding, brake traction control, and an optional 4.03:1 transfer case with rear locking differential.
Among its off-road credentials, the H3 can ford 24-inch (610 mm) streams at a 5-mph pace, climb 16-inch (407 mm) vertical steps and rocks, make its way through deep sand and race easily over sandy surfaces.
H3's more maneuverable size provides advantages, such as a 37-foot turning circle that is about the same as a typical compact car, making easy work of parking lot maneuvers and tight turns when off-roading. The 9.1-inch (231 mm) ground clearance and maximum breakover angle of 25 degrees (with 33-inch tires) both make it possible to clear large obstacles in off-road driving. Serious off-road performance is also aided by the maximum approach angle of 39 degrees and maximum departure angle of 37 degrees. These approach and departure angles permit the H3 to drive into a hole and back out again, without getting hung up in the front or rear.
2009 HUMMER H2 Black Chrome edition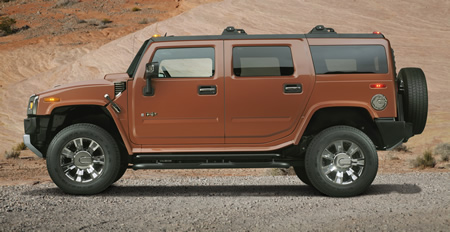 2009 HUMMER H2 Black Chrome Photos – (11 Photos)
The Black Chrome limited edition model will be available later in the '09 model year. Only 1,300 will be offered worldwide. These special H2 SUV and SUT models are distinguished on the outside with black chrome details, including:
Twenty-inch chrome-clad wheels
Grille
Hood latches and handles
Fuel filler door
Door handles
Mirror caps
"H2" badges
Side air vents
Spare tire cover emblem
Body-color wheel flares, rocker moldings and hood louver
Three exterior colors are available with the Black Chrome edition: the new-for-2009 Silver Ice Metallic, Sedona Metallic and Carbon Black Metallic. Silver Ice Metallic and Carbon Black Metallic are offered with the Ebony/Shale interior combination, while the Sedona Metallic color is exclusive to the Black Chrome edition and is offered only with the Sedona interior.
Specific interior trim is included with the special model, as well as a heated and power-tilting steering wheel.
New for 2009 Hummer H2
The H2 and H2 SUT's changes for 2009 increase the model line's choices of amenities to enhance comfort and convenience. They complement a luxury-appointed interior that was redesigned for 2008. The new features include:
Available second-row captains chairs that deliver a more personal and luxurious seating choice
Third-row seat storage that frees up more storage space in the H2 SUV's interior
Heated steering wheel (interim availability)
Power-tilting steering wheel (interim availability)
Additionally, several technology enhancements are added to the H2 lineup:
Bluetooth phone connectivity
OnStar Destination Download that sends driving directions directly to the navigation system
XM Satellite Radio with NavTraffic real-time traffic advisement
Rear vision "display on demand" on the inside rearview mirror for models not equipped with the navigation system – this replaces the previous "slide out" display (models with the navigation system feature rear vision displays on the navigation screen)
2009 HUMMER H2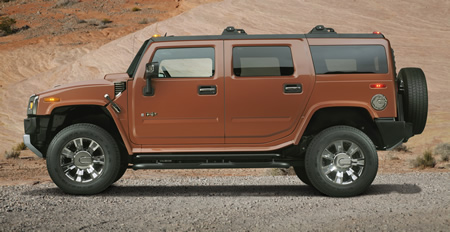 Luxury Appointed Interior
Completely redesigned in '08, the H2 lineup's luxury-appointed interior features a detailed instrument panel, three seating rows, a rear climate control system, a rear-seat overhead DVD entertainment system and a family of premium radios.
The seats have a chiseled appearance and offer excellent comfort; front-seat safety belt pretensioners are standard. Complementing the new seats are upscale door trim panels and an instrument panel with a six-gauge instrument cluster. These features have a detailed, refined appearance with minimal gaps – often 1 mm or less. Soft-touch materials and tactile controls enhance the feeling of craftsmanship.
A prominent center stack houses the climate controls and radio, including a standard premium Bose audio system and an available surround sound system. XM Satellite Radio is standard and it is now available with NavTraffic, a real-time traffic advising feature.
The H2 also offers a standard remote starting system that enables the vehicle's interior to be heated or cooled prior to driving.
2009 HUMMER H2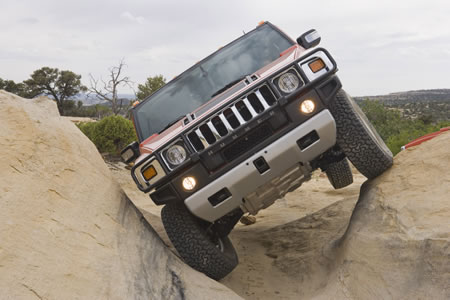 Powertrain
The pulling power of the H2 comes from its 6.2L V-8 engine that uses variable valve timing technology to maximize performance and fuel efficiency. It is rated at 393 horsepower (293 kW)* and 415 lb.-ft. of torque (563 Nm)*. The engine also features lightweight materials, including an aluminum cylinder block. New for '09, the 6.2L engine is calibrated to run on E85 ethanol.
A six-speed Hydra-Matic 6L80 RWD electronically controlled automatic transmission backs the 6.2L engine. It has a wide, 6.04:1 overall ratio – including two overdrive gears – that helps deliver an excellent balance of performance and fuel economy. Also, the 6L80 has a "tap up/tap down" capability that allows the driver to manually select upshifts and downshifts with buttons on the steering wheel. It provides an off-road crawl ratio of approximately 39:1.
A 3.73 axle ratio and features such as regulated voltage control that charges electrical components only when necessary help maximize the H2's efficiency, while the powertrain enables a towing capacity of 8,200 pounds (3,727 kg).
Chassis
The H2's foundation is a fully welded, ladder-type frame that features a modular, three-piece design incorporating a number of hydroformed components. This design delivers outstanding strength, stiffness and dimensional accuracy.
Short overhangs allow radical approach and departure angles, as well as exceptional ground clearance for minimal impact on trails. Standard 17-inch wheels, heavy-duty independent front suspension and a five-link rear suspension provide superior handling, carrying and towing capability.
A solid rear axle ensures durable sure-footedness, particularly in tight, off-road situations. Also standard is underbody protection and rocker protection. These elements help the H2 deliver on HUMMER's mantra of capability, including traveling through streams 24 inches (508 mm) deep, climbing 16-inch (406-mm) steps and rocks and paddling through deep sand or snow.
The H2 features a four-channel anti-lock braking/traction control system (ABS/TCS) that provides optimum control on slippery surfaces. In addition, the ABS can detect and adjust its braking capabilities to rough off-road surfaces like gravel and potholes. The new traction system allows the driver to use a two-foot driving technique (one foot the brake, the other on the gas pedal), which is the best driving style for negotiating a steep, rocky trail. The TCS also includes the ability to gain traction through a single wheel.
A self-leveling rear air spring suspension system is available for extreme off-road and towing requirements.
New for 2009 Hummer H2
Safety
A robust safety system complements the H2 lineup's performance and comfort amenities, and includes several standard features:
Roof rail head curtain side air bags for first-, second- and third-row passengers (if equipped) with rollover sensing system
Safety belt pretensioners (first-row seats)
Electronic stability control system with rollover mitigation technology
New traction control system
Tire pressure monitoring system
A panic brake assist feature (standard) detects emergency braking situations and maintains maximum brake pressure to help stop the vehicle more quickly and with more control.
The standard OnStar system offers the optional Turn-By-Turn navigation system. Additional optional features that contribute to a safer driving experience include HUMMER's Rear Vision System – a rearview camera system – and a navigation system.